Setting up your mobile phone and internet is a top priority after you land.
One of the first things you need to do when you arrive in New Zealand is to get your mobile phone working and get connected to the internet.
You will also want to get access to TV, radio and the news.
Mobile phones
To connect to the local cellular network, you will need a local SIM card for your mobile phone. 
There are a number of network providers to choose from in New Zealand. The four main ones - Spark, Vodafone, 2degrees and Skinny.
They all offer a range of plans for different levels of usage.
You should take some time to look all at the options available.
Many new arrivals say they find calls and mobile data in New Zealand relatively expensive, but texting very cheap.
Network coverage
Network coverage varies a lot around the country.
Major cities and towns generally have strong mobile coverage and 5G is available.
However in some remote areas, you'll find mobile coverage can be poor and one company has better reception than another. You should speak with the locals to find out about coverage in your area.
Internet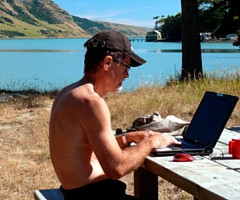 Most short-term accommodation in New Zealand comes with Wi-Fi internet access- but not all. Make sure you check before you make a booking.
If they do not have Wi-Fi, there are ways you can access internet on the go while you are out exploring and job hunting.
You can often find free Wi-Fi in city centres and cafes.
Free internet and computer equipment is also available in public libraries through the Aotearoa People's Network Kaharoa (APNK), a partnership between our National Library of New Zealand and local libraries.
When you find somewhere to live longer term, you will need to set up more permanent internet and phone connections. 
You can compare plans and prices on Broadband Compare and Glimp.
Find an APNK library | National Library
Compare New Zealand's Best Broadband Deals | Broadband Compare
Find better internet service providers | Glimp
News and media
There are many ways to keep entertained and up to date with what is happening in your home country, New Zealand and around the world.
Television
To watch free-to-access television in New Zealand, you will need to be connect to Freeview.
For premium international channels and shows, you will need to subscribe to paid TV services.
Compare TV streaming service providers in NZ | Glimp
TV news
There are two major TV news bulletins at 6pm on Freeview television.
1News on channel 1 and Newshub on channel 3. You can also watch Al Jazeera on channel 20 if you have Freeview.
Radio 
You can find the frequencies for radio stations in your area on the Radio Broadcasters Association website.
Find a station | Radio Broadcasters Association
Radio news
Many radio stations in New Zealand carry regular news bulletins.
Our state broadcasted radio, Radio New Zealand (RNZ) has hourly news bulletins and regular shows with an international focus, including World and Pacific News.
Today FM and Newstalk ZB are the country's most prominent commercial radio news stations.
Online news
The country's two most popular online news sites are Stuff and The New Zealand Herald.