Looking for a change? Somewhere the weather is neither too hot nor too cold, nothing is too far away, and the people are friendly?
New Zealand could be just the place you're looking for.
Find out how New Zealand compares to Canada, and how you can get a visa to experience our lifestyle.
How New Zealand compares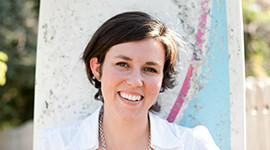 Lindsey Shaw found the job market a lot less competitive in New Zealand compared to her native Canada when she moved here with her Kiwi-born husband Christian.
There's lots to make you feel at home in New Zealand, including all the comforts and conveniences you're accustomed to.
What many Canadians find different is a gentler pace of life. There's always time to treat people as individuals and look out for each other.
Another big difference is the weather. We have a relatively gentle climate that means you can get out and about all year round.
Famous scenery
Coming from Canada you'll know all about mountain grandeur, placid lakes and great plains. New Zealand serves up all that - in its own way - and more. 
Long sub-tropical sandy beaches, meandering braided rivers, active volcanoes, geysers and boiling mud pools. No wonder we're top choice as the backdrop for epic movies like Lord of the Rings.
It's all so accessible. Compared to the vast distances involved in getting around your country, in New Zealand you can be somewhere totally different in a matter of hours. That makes it easy to explore the incredible diversity we have to offer.
Unique indigenous culture
New Zealand has a unique culture with strong Māori and Polynesian influences. 
Māori tikanga (protocols and customs) runs deeply through New Zealand's culture.
One of the most important Māori customs is 'Manaakitanga'. This means hospitality, kindness and generosity. As a multicultural nation, we welcome everyone.
New Zealand was voted No.1 for future outlook, No.2 for lifestyle, No.3 Overall in the 2021 HSBC Expat Explorer survey of expats in 46 countries.
Upbeat outlook, low-key politics
Along with the relaxed lifestyle, you'll find a relatively upbeat outlook on life.
For example, in the OECD Better Life Index, New Zealand is ranked 10th for life satisfaction and 8th for sense of community while Canada is ranked 16th and 21st respectively.
We enjoy a long tradition of relatively calm and polite political debate. It helps that we're a long way from the political turbulence affecting so many other parts of the world.
Enviable work/life balance
The quality of life in New Zealand really is excellent compared to many other countries.
New Zealanders have a strong work ethic but we also believe in having a good work-life balance. Even in our biggest cities, you're never too far from a beach, bike trail, or national park. We love the outdoors, and like to make time for rest and relaxation with our friends and families.
Great climate for outdoor living
New Zealand has a temperate climate, which means we have relatively warm, dry summers — December to February — and mild, wet winters — June to August.
We don't have the extremes Canadians have to cope with — no long months of being snowbound, or periods of energy-sapping, baking heat.
In summer, our maximum average temperatures range around 20 - 30ºC and in winter, between 10 - 15ºC. Snow is confined to the mountains and the bottom half of the South Island (the 'deep South'). It's not seen in Auckland and Wellington, and rarely in Christchurch.
A gentle climate makes it easy to get out and enjoy our fantastic scenery or take advantage of all outdoor recreation experiences that New Zealand offers.
Digitally connected
New Zealand's internet infrastructure is advanced and efficient.
We have a near-nationwide high speed fibre network giving most fibre-linked businesses and households 100 Mbps connections and options for up to 950 Mbps download and 450 Mbps upload.
Global broadband ranking service Ookla rated New Zealand's average speed at November 2020 as 143 Mbps, 22nd out of 174 countries rated.
WFH ('Working From Home') for at least some of the time has become increasingly accepted by employers, as part of New Zealand's COVID-19 response.
We're 15th of 142 countries surveyed by Cisco for digital readiness.
Digital Readiness Index | CISCO
Getting job opportunities 
New Zealand's job market has been strong over recent years, driven by solid economic performances. Many people from Canada are finding good jobs and careers here.
Migrant workers are needed to fill posts in a range of highly skilled occupations particularly, but not solely:
agriculture and forestry
construction, trades and infrastructure
education
engineering
healthcare and social services
ICT, electronics and telecommunications
recreation, hospitality and tourism.
If your skills are on any of the official skill shortage lists, you will find it easier to find a job and get a visa.
If your job or profession isn't on a skill shortage list, don't worry. There are other opportunities in New Zealand for people with the right skills.
Skill shortage list checker | Immigration New Zealand
High quality education
We ranked third just behind Finland and Sweden in The Economist's 2019 Educating for the Future Index of 50 major countries. This index focuses on how successful countries are at preparing 15-24 year olds for the future.
Another study, the Legatum Institute's 2021 prosperity index, ranked New Zealand 12 out of 167 countries for our education system.
World Educating for the Future Index | The Economist
Prosperity Index | Legatum Institute
Childhood education
In New Zealand, the government subsidises early childhood education (ECE) for children under 5 years old.
State primary and secondary schools are free for domestic students. However, they can ask for donations towards their running costs and parents usually need to pay for things like school uniforms, stationery, exam fees and some course-related costs.
State-integrated and private schools usually charge parents compulsory fees.
20 Hours ECE | Ministry of Education
Higher learning
New Zealand also offers top quality higher learning. We have eight universities and 16 institutes of technology that provide domestic and international students with internationally recognised qualifications.
All of our universities are in the top 500 of the 2023 QS World University Rankings — five are in the top 300.
QS World University Rankings 2023 | QS Top Universities
Getting a visa
If you want to move to New Zealand or come here to work for a while, there are different visa options to suit your plans.
if you're aged 18-35, working holiday visas can give young Canadians up to 23 months in New Zealand, almost twice as long as young people from many other countries
a work visa lets you live and work here for a set period and some can lead to residence
a resident visa, like the Skilled Migrant Category, lets you access more state-funded public services and stay indefinitely
Organising the move
Once you make a decision to come to New Zealand, there will be a lot to organise. Your top priorities after finding work and getting a visa will be deciding where you want to live and finding accommodation, sorting out money and banking matters and, if you have a family, finding the best schools for them.
Our NZ Ready tool can help you with your planning and ensure you don't forget the most important things.
NZ Ready planning tool | Immigration New Zealand
Interested in coming to New Zealand?
Take the first step to a new life by registering your interest with Immigration New Zealand. We'll send you personalised emails about job opportunities in your profession, life in New Zealand and choosing the right visa.
It's free and there's no obligation.