Here's your chance to combine outstanding career opportunities with a lifestyle you simply won't find anywhere else.
Imagine being able to apply and develop your business or finance skills in a globally connected environment – then in half an hour or less, be relaxing on a beach, hiking through beautiful native bush, pounding down a mountain bike track or just chilling with friends in your back garden over a fine New Zealand craft beer or wine.
That's what you can look forward to when you bring your skills to New Zealand.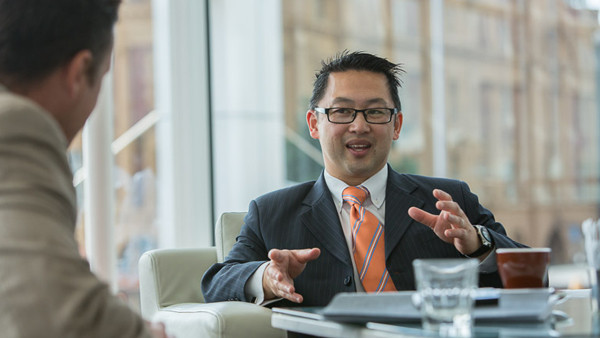 Strong economy
Over the past 30 years, New Zealand has transformed into a successful and resilient free market with an open economy.
New Zealand has a successful and resilient free market with an open economy.
Annual GDP growth reached 5% in 2021.
As with other countries around the world, the COVID-19 pandemic has slowed economic growth in New Zealand. 
The OECD predicts GDP growth will ease to 3% in 2022 and 2% in 2023.
New Zealand Economic Snapshot | OECD
Invest and innovate in New Zealand
Ours is a mixed and highly de-regulated economy. It's powered mainly by a highly efficient agriculture sector but also benefits from a flourishing manufacturing sector, a thriving tourism industry, and a strong renewable energy resource base.
A great place to be in business
Forbes magazine consistently ranks us one of the five best countries in the world for business.
Forbes consistently ranks us one of the five best countries in the world for business. 
The International Tax Foundation's 2021 index puts New Zealand third amongst OECD countries for tax competitiveness
Transparency International's 2021 Corruption Perception Index (CPI) ranks us first equal with Denmark and Finland as the world's three least corrupt countries out of 180.
New Zealand was rated the world's fourth most free economy in the Heritage Foundation's 2022 Index of Economic Freedom.
International Tax Competitiveness Index 2021 | Tax Foundation
Corruption Perceptions Index 2021 | Transparency International
2022 Index of Economic Freedom | Heritage Foundation
Different - but challenging
As a free, open and export-reliant economy, New Zealand businesses have to compete to international standards.
You can expect a busy work environment where you'll be challenged, extended and expected to keep pace with global best practice.
Our businesses do tend to be smaller than businesses in bigger economies – but that has benefits. Flatter structures position you that much closer to the decision makers and give you a much broader perspective than is possible when you're confined to highly specialised silos.
Working in smaller businesses also means you're often challenged with opportunities to do things outside your specialty, expanding your skill set.
A large and thriving sector
The service sector overall accounts for nearly two thirds of our GDP. It's a big part of our economy offering all sorts of roles and opportunities for people with business skills.
The financial and insurance services subsector is also important - in 2019, it contributed $17.4bn to GDP (nearly 6%).
There are 26 banks and 24 non-bank deposit takers registered with the Reserve Bank. There are around 86 insurers, accounting for NZ$32 billion in assets, operating in one of the least regulated insurance markets in the world.
The Heritage Foundation in 2019 ranked our economy the third freest in the Index of Economic Freedom
Digitally connected
New Zealand's internet infrastructure is advanced and efficient.
We have a near-nationwide high speed fibre network giving most fibre-linked businesses and households 100 Mbps connections and options for up to 950 Mbps download and 450 Mbps upload.
Global broadband ranking service Ookla rated New Zealand's average speed at November 2020 as 143 Mbps, 22nd out of 174 countries rated.
WFH ('Working From Home') for at least some of the time is increasingly accepted by employers.
Our capital city Wellington has even been recognised as "one of the world's top destinations for remote workers and digital nomads."
Business and finance skills needed
New Zealand needs more workers with business and finance skills.
Accountant and accountants procurement manager roles feature on the official skills shortage lists.
If your skill is on one of these lists it is good news for you. That is because it means the Government accepts employers need to recruit for accountants overseas because there aren't enough qualified New Zealanders.
If your job is not on a shortage list, don't be disheartened. There are other work and visa options.
For example, If you can get a job offer and your employer can demonstrate they can't find a New Zealander for the vacancy, then you may be able to apply for a work visa.
Alternatively, you may be able to apply for a resident visa if you meet the criteria for our Skilled Migrant Category.
Is your profession on the green list?
Check for Business and Finance roles currently on INZ's fast-tracked Residency Green list.
The Green List | Immigration New Zealand
Finding a job
Check out where your skills will fit best and which employers are looking for your expertise.
Getting professional registration
Depending on your specialty, you may be required to register with a professional body in order to get a job and visa. In any case, getting a visa may be more straightforward if you can demonstrate professional registration in New Zealand.
More details are on the Immigration New Zealand website.
Occupational registration | Immigration New Zealand
Visa options
There are various types of visas that you may be eligible to apply for.
Work visas are for a temporary stay in New Zealand, but some can lead to residence. Resident visas let you stay indefinitely and access more state-funded public services.
Interested in coming to New Zealand?
Take the first step to a new life by registering your interest with Immigration New Zealand. We'll send you personalised emails about job opportunities in your profession, life in New Zealand and choosing the right visa.
It's free and there's no obligation.