Once you are settled into New Zealand you may decide you would like to become a citizen. As well as demonstrating your commitment to your new country, citizenship gives you a range of benefits.
Benefits of New Zealand citizenship include:
The right to travel freely overseas and return on a New Zealand passport.
Full access to economic rights.
Full access to educational scholarships and awards that are reserved for New Zealanders.
Routes to citizenship
There are two main routes - Citizenship by Descent and Citizenship by Grant. Both are administered by the Department of Internal Affairs (DIA).
You may be eligible for Citizenship by Descent if you were born overseas but have at least one parent who was a New Zealand citizen when you were born.
Generally, Citizenship by Grant is the way for most migrants. If you have children, they do not have to meet all of the requirements to get New Zealand citizenship.
How to apply for NZ citizenship | Govt.nz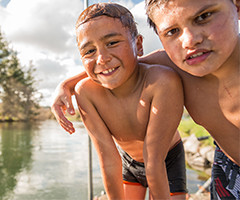 Citizenship by Grant
In general terms, the requirements are:
Presence in New Zealand: you need to show you have been physically present in New Zealand for a certain amount of time and that you plan to stay living in New Zealand.
Language requirements: you need to be able to hold a basic conversation in English, like shopping or banking without assistance.
Good character: if you have never been in trouble with the law in New Zealand or overseas, you meet this requirement.
The Department of Internal Affairs (DIA) has a self-check tool to find out if you are eligible for New Zealand citizenship. To see if you are likely to meet the requirements and to check whether you can apply online, visit the Govt.nz website.
Requirements for New Zealand citizenship | Govt.nz