New Zealand's system of government is strongly influenced by the Treaty of Waitangi, known in te Reo Māori (the Māori language) as Te Tiriti o Waitangi.
Visit the Treaty
If you are in Wellington, you can actually see the Treaty of Waitangi. The original documents are on permanent exhibition at the National Library of New Zealand.
The Treaty is the agreement signed by representatives of the Queen of England and leaders of most Māori tribes when Britain first claimed New Zealand as a colony in 1840.
The settlement of Waitangi in Northland is still the focus of events when New Zealand celebrates the signing with a national holiday on February 6 each year (or the Monday following if the 6th falls on a weekend).
Why the Treaty is important
The Treaty governs the relationship between Māori - the tangata whenua (indigenous people) - and everyone else, and ensures the rights of both Māori and Pakeha (non-Māori) are protected. It does that by:
accepting that Māori iwi (tribes) have the right to organise themselves, protect their way of life and to control the resources they own
requiring the Government to act reasonably and in good faith towards Māori
making the Government responsible for helping to address grievances
establishing equality and the principle that all New Zealanders are equal under the law.
The Treaty in action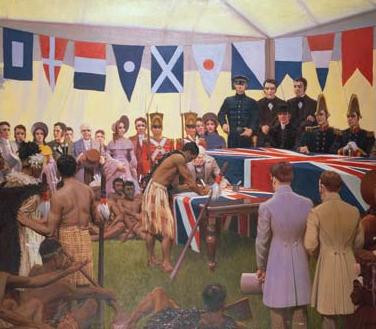 The principles of the Treaty are referred to in several Acts of Parliament. It is an important part of the New Zealand education system and how New Zealanders work.
Applying the Treaty influences life in New Zealand in many ways.
Parliament
Māori representation in Parliament is guaranteed with reserved seats - currently there are seven. Many Māori are also Members of Parliament via 'general' electorates.
Waitangi Tribunal
There is a Waitangi Tribunal that researches and makes legal decisions on cases where Māori land and other resources were taken illegally or unfairly in the past. Quite often this results in large settlements for iwi, including cash and land.
Many iwi are putting these settlements to good use building major commercial enterprises - often becoming important employers in the process.
Some Waitangi Tribunal settlements do not only benefit Māori. For example, a lot of work has been done to restore Auckland's western harbour from waste and sewage despoliation after Māori living in the area lodged what is known as the Manukau claim.
Fisheries
Another example of the Treaty in action is fisheries. Māori now have significant control of, and rights to, this important natural resource.
Language
The Māori language - Te Reo - is now an official language alongside New Zealand Sign Language. Increasingly, the names of places and organisations (particularly government departments) are written in both English and Māori. You will hear Te Reo all around you, including on television and radio and in the workplace.
To further help protect and preserve the language and culture, some radio frequencies are reserved for Māori. The Māori funding agency Te Mangai Paho has also established a Māori television channel.
You are not expected to be able to speak Te Reo. But you should be aware of some of the most common phrases and have a basic understanding of Māori protocol and Māori culture and customs. This will be a requirement for some jobs, particularly those in the government sector. See our Māori culture page.
Find out more
Understanding the Treaty will help you to understand the influence it has on every aspect of life here. The Treaty has been translated into 30 languages so more people can understand this important part of New Zealand. For more information about the Treaty, visit these websites.