If there is a disaster, listen to your radio or television for advice about what to do. Or visit the Civil Defence website.
If your life or property is at risk, you should call 111 for emergency help.
Be prepared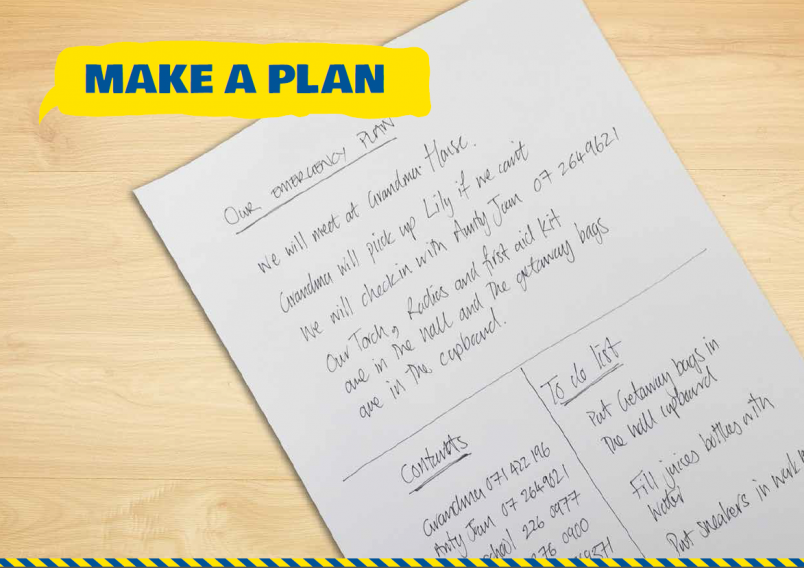 Disasters can and do happen in New Zealand. There are some basic things you should do to be prepared.
In most emergencies you should be able to stay in your home. Plan to be able to look after yourself, your family and your pets for three days or more.
The Get Ready website has information to help you be prepared. It explains the four most important things you need to understand. You need to:
know how to keep safe before, during and after different types of disaster
create and practise a household emergency plan
put together a kit of emergency survival items and keep things like batteries and water refreshed
have a backpack with essential items in it in case you have to leave in a hurry.
In most emergencies you should be able to stay in your home. Plan to be able to look after yourself, your family and your pets for three days or more.
Information is available online in Simplified Chinese, Traditional Chinese, Hindi, Korean, Samoan, Tongan and Arabic.
You may also find the preparedness guides put out by the Wellington Region Emergency Management Office useful. There are separate guides that cover emergency preparedness for your household, business and neighbours.
Preparedness guides | Wellington Region Emergency Management
Buying the right emergency kit | Consumer NZ
Earthquakes
Lying on the boundary of two great and slowly shifting tectonic plates, New Zealand does get earthquakes. They usually strike without warning, so it is really important to have an idea of what to do, especially if you have never experienced a severe shake.
Most injuries in an earthquake are caused by falling objects or debris, like furniture, wall hangings, glass and building materials, rather than by collapsing buildings. Most buildings will remain standing during a large earthquake, allowing people to exit safely.
In an earthquake
The main thing to remember in an earthquake is to DROP, COVER, HOLD:
Drop to the ground
Take cover under a solid piece of furniture
Hold on to it.
If you cannot do that, shelter against an interior wall away from windows, bookcases and other hazards. And stay indoors until the shaking stops.
For more information on what to do before, during and after an earthquake, look at the earthquake section on the getready.govt.nz website.
International experts agree that you will reduce your chance of injury if you:
DROP down onto your hands and knees. This position protects you from falling and allows you to move if necessary
COVER under a sturdy table or desk. If there is no shelter nearby, cover your head and neck with your arms and hands
HOLD on to your shelter (or to your head and neck) until the shaking stops.
If you use a wheelchair, or are otherwise unable to Drop, Cover and Hold, brace yourself as best you can and try to find a way to protect your head and neck.
Tsunami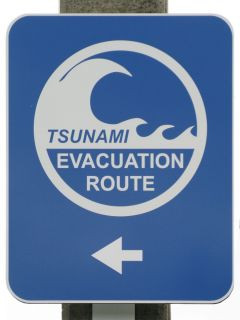 A tsunami is a series of waves created when lots of water in the sea, or in a lake, is quickly displaced. Tsunamis can be caused by a number of things, such as coastal earthquakes or volcanic eruptions beneath the sea.
Tsunami waves can be very large and destructive. They can move a long way onto shore very quickly.
If a tsunami is possible, a warning may come over the radio or you may hear a Civil Defence siren. If you live in a coastal area, make sure your planned evacuation place is outside of the tsunami zone. Check your local council's tsunami zone map and be prepared to leave quickly.
If you are near the coast when there is an earthquake that rolls for more than a minute or that makes it hard to stand up:
move to high ground or as far inland as you can
walk or run if you can
do not wait for a tsunami warning
stay there until you get the all clear.
Flooding
Floods are New Zealand's most frequent natural disaster. Floods can cause injury and loss of life, damage to property and infrastructure, loss of stock, and contamination of water and land.
Floods are usually caused by continuous heavy rain or thunderstorms but can also result from a tsunami or a coastal storm. A flood becomes dangerous if the:
water is very deep or is travelling very fast
floods have risen very quickly
floodwater contains debris, such as trees and sheets of corrugated iron or other large objects.
Getting ready before a flood strikes will help reduce damage to your home or business and help you survive.
Disaster relief
Civil Defence helps people get through natural or man-made disasters, like storms or floods, landslides, earthquakes, tsunamis, fires or volcanic eruptions.
The Ministry of Civil Defence & Emergency Management coordinates Civil Defence nationally. Local Civil Defence is led by your city or district council.
You can contact Civil Defence to find out information on local hazards and community response arrangements.
For details about how you can stay informed, visit the Get Ready website.