Come to a country with so much to see and do, and a work/life balance that gives you time and personal space to experience it all.
New Zealand is a great place to broaden your experience of the world and a wonderful environment for children to grow up in.
Find out how New Zealand compares to Singapore, and how you can get a visa to experience our lifestyle.
How New Zealand compares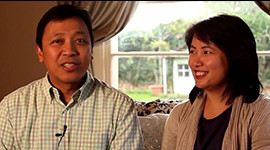 "There's lots of cultural diversity, so wherever you come from you're bound to bump into someone else from the same country"
New Zealand can offer all the comforts and conveniences you expect at home - but in a more relaxed environment.
Our most energetic towns and cities are not as densely populated as your famously busy city-state.
The weather in New Zealand is more gentle and less hot and humid than in Singapore.
People here take work seriously, but we also make sure we spend lots of time with our families and do the things we want to.
Many of our larger cities and towns have significant communities of Singaporeans and other Asian people.
Over 16% of New Zealanders are ethnically Asian, and the government predicts this will grow to 26% of our total population by 2043.
Ethnic population projections | Stats NZ
Scenic beauty
New Zealand is famously beautiful - clean, green and spectacular.
Our landscapes are often chosen to be the backdrop for epic movies such as Lord of the Rings.
We have many beaches, lakes, fjords, forests and mountains for everyone to enjoy.
Gentle climate
New Zealand's climate is temperate. It is know for gentler weather than Singapore's tropical/equatorial climate.
We have four distinct seasons with varying types of weather, including generally warm, dry summers and cooler, wet winters.
In summer, our maximum average temperatures range around 20 - 30ºC and in winter, between 10 - 15ºC.
The gentle climate means it's generally easy to spend time enjoying our famous scenery and recreational activities.
Wide open spaces
Our population is similar to Singapore's, but it is spread across much more land.
New Zealand has about 18 people per km2 compared to about 8358 people per km2 in Singapore.
We have wide open spaces with plenty of room to move and lots of natural beauty.
There is room to move and lots of natural beauty to enjoy.
Otari-Wilton Bush, Wellington
Great environment for families
New Zealand is a place to raise a family.
The 2021 Global Peace Index — comparing 163 countries for the risk of personal violence — rated New Zealand the world's second safest country, after Iceland.
Singapore is ranked 11th.
Global Peace Index | Vision for Humanity
New Zealand was voted No.1 for future outlook, No.2 for lifestyle, and No.3 overall in the 2021 HSBC Expat Explorer survey of expats in 46 countries.
(Singapore ranked 10th, 15th and 9th respectively.)
Educational excellence
From pre-school to postgraduate, New Zealand's educational system is first class.
Education here is very focused on preparing young people for tomorrow's world. We ranked third out of 50 leading countries — just behind Finland and Sweden — in The Economist's 2019 Educating for the Future Index.
Educating for the Future | The Economist
Childhood education
In New Zealand, the government subsidises early childhood education (ECE) for children under 5 years old.
State primary and secondary schools are free for domestic students. However, they can ask for donations towards their running costs and parents usually need to pay for things like school uniforms, stationery, exam fees and some course-related costs.
State-integrated and private schools usually charge parents compulsory fees.
20 Hours ECE | Ministry of Education
Higher learning
New Zealand also offers top quality higher learning. We have eight universities and 16 institutes of technology that provide domestic and international students with internationally recognised qualifications.
All of our universities are in the top 500 of the 2023 QS World University Rankings — five are in the top 300.
QS World University Rankings 2023 | QS Top Universities
It's a western-style education where young people are encouraged to ask questions, think flexibly and creatively, and to seek their own answers.
Subsidised healthcare
Public healthcare in New Zealand is free or low cost if you are a citizen, resident or hold a work visa valid for two years or more.
Private healthcare insurance is also available.
Family doctors (known here as general practitioners or GPs) are generally easy to see and hospital Accident and Emergency treatment is free.
Care for injuries from accidents is also free, covered by our Accident Compensation scheme.
Guide to eligibility for publicly funded health services | Ministry of Health
Cost of living
You may find the cost of living in New Zealand cheaper than you're used to
Singapore was rated the world's 8th most expensive city to live in by Mercer's 2022 Cost of Living Survey.
New Zealand's two most expensive cities appear much lower in the rankings, Auckland at 95th and Wellington at 120th.
Digitally connected
New Zealand's internet infrastructure is advanced and efficient.
We have a near-nationwide high speed fibre network giving most fibre-linked businesses and households 100 Mbps connections and options for up to 950 Mbps download and 450 Mbps upload.
Finding work
New Zealand's job market has been strong over recent years, driven by generally solid economic performances.
Many people from Singapore are finding good jobs and careers here.
Migrant workers are needed to fill posts in a range of highly skilled occupations in particularly, but not solely:
agriculture and forestry
construction, trades and infrastructure
education
engineering
healthcare and social services
ICT, electronics and telecommunications
recreation, hospitality and tourism.
If your skills are on any of the official skill shortage lists, you will find it easier to find a job and get a visa.
If your job or profession isn't on a skill shortage list, don't worry. There are other opportunities in New Zealand for people with the right skills.
Skill shortage list checker | Immigration New Zealand
Getting a visa
If you're planning more than a brief sightseeing trip to New Zealand - and especially if you want to work here - you'll need one of the various different types of visa that are available.
Singaporean undergraduate students or graduates of a Singapore university or polytechnic aged 18-30 can apply for the Singapore Work Exchange Programme. This visa is valid for up to 12 months in New Zealand.
Work visas let you live and work here for a set period and may even lead to residence.
Resident visas such as the Skilled Migrant Category let you stay indefinitely and access more state-funded public services.
Singapore Work Exchange Programme | Immigration New Zealand
Organising the move
Once you've made the decision to come to New Zealand, you'll have lots to organise. Apart from finding work and getting a visa, your top priorities will be deciding where you want to live and finding accommodation, sorting out money and banking matters and, if you have a family, finding the best schools for them.
Getting your new life off to a good start is all a matter of preparation. To help with the planning try our NZ Ready tool. NZ Ready will help you build a comprehensive plan outlining what is involved in a move, ensuring nothing is missed.
Interested in coming to New Zealand?
Take the first step to a new life by registering your interest with Immigration New Zealand. We'll send you personalised emails about job opportunities in your profession, life in New Zealand and choosing the right visa.
It's free and there's no obligation.