New Zealand has a police force that is reliable, trustworthy and approachable. The New Zealand Police solve a comparatively high number of crimes.
Responsibilities
The New Zealand Police work to prevent crime and enforce the law by bringing lawbreakers to justice.
They also handle traffic management, patrolling roads for traffic offences and issuing tickets and infringement notices for breaking the road rules.
Other responsibilities include:
keeping the peace and maintaining public safety
providing community support and reassurance
assisting with national security and emergency management.
New Zealand Police see their work as very much a shared responsibility.
Their slogan is 'Safer Communities Together', so they work closely with local communities and organisations.
Code of conduct 
The New Zealand Police have follow strict rules that they must follow at all times. 
They can not harass you in day-to-day life and do not generally carry personal firearms.
You can read about their code of conduct online.
There is more detail about their powers on the Community Law website.
New Zealand Police Code of Conduct | New Zealand Police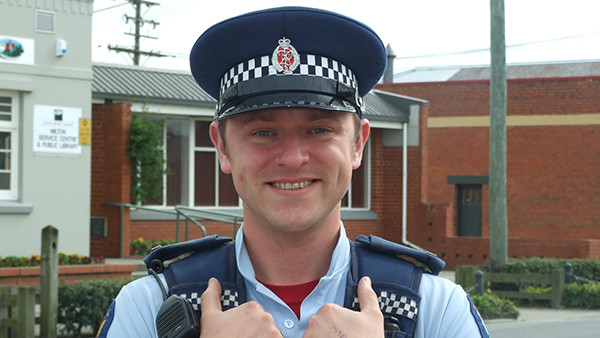 New Zealand Police Officer
Dealing with police
The New Zealand Police are here to help you.
The Police website has a list of ethnic liaison officers, as well as advice and information for recent migrants on:
crime trends to be aware of
communicating with police (includes ways to report crime, options for non-English speakers, and how to contact police in your communities)
your rights with police
driving in New Zealand
personal safety
theft prevention for businesses
family violence
crime prevention resources and videos
police initiatives for ethnic communities.
This information is available in English, as well as in Arabic, Chinese, Farsi, German, Hindi, Japanese, Korean, Somali, Spanish, Thai and Vietnamese.
Advice for new arrivals | New Zealand Police
Ethnic Liaison Officers | New Zealand Police
Communicating with Police | New Zealand Police
Your rights with Police | New Zealand Police
Police Ethnic Safety Patrols
Volunteers in the Ethnic Safety Patrols work alongside the New Zealand Police in Auckland, Wellington and Canterbury to conduct preventative patrols and community reassurance activities.
The volunteers are involved in a range of activities and help the Police to reach out to the community.
The safety patrols also work closely with Community Patrols New Zealand and Neighbourhood Support.
Home | Community Patrols of New Zealand
Crime rates
New Zealand Police posts an annual summary of crime in the country on their website. 
Legal advice
If the Police believe you have broken the law, you may want the advice of a lawyer. If you do not have the money to pay for a lawyer, a Citizens Advice Bureau (CAB) or Community Law Centre may be able to help, or you may be entitled to legal aid.
Remember:
Migrants who break the law while in New Zealand on a temporary work visa can be deported.
Traffic offences
Traffic offences include things like driving over the speed limit and driving after drinking alcohol or taking drugs.
If you receive a speeding ticket or other infringement notice, you will probably have to pay a fee or a fine. Details of how to pay are on the Police website.
You may also receive demerit points with your fine. If you receive 100 or more demerit points in a two-year period, you will be suspended from driving for three months. There are no demerit points for road safety camera infringement notices.
Find out more about demerit points on the New Zealand Transport Agency (NZTA) website.
Pay an infringement fee or ticket | New Zealand Police
Demerit points | Waka Kotahi NZ Transport Agency
Gun ownership
In New Zealand:
there are restrictions on owning certain kinds of weapons
all firearms owners must have a firearms licence and store their guns and ammunition separately in secure locked areas.
Owning and using firearms in New Zealand is managed by the New Zealand Police. To get a gun licence you need to pass the firearms test operated by the Police and provide the personal identification and referrals they need.
Firearms & Safety | New Zealand Police
Complaints, comments, compliments
The New Zealand Police want to receive your feedback, whether it is a compliment or a complaint.
If you believe that you have been treated unfairly by the Police, you can make a formal complaint to the Independent Police Conduct Authority (IPCA). The Community Law website explains the process in detail.
The Police also have their own process for receiving feedback. Details are on their website and are available in English, Arabic, Chinese Simplified, Chinese Traditional, Hindi, Japanese, Korean, Somali, Samoan, Spanish and Tongan.
Complaints about the police | Community Law