If you are moving to New Zealand with your partner or spouse, you may face quite specific challenges when you first arrive.
This page provides practical information about getting you and your family set up in New Zealand so you can get settled and start enjoying life here.
Getting a visa
New Zealand offers a number of partner visa options. Check out which visa you may qualify for and how to apply for it. You should also check what visas your children need.
Finding work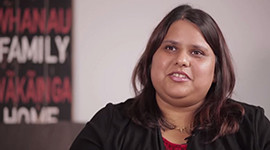 Shikha found volunteering gave her New Zealand experience and helped her secure a job.
Experience shows that finding work often helps people to settle into life in New Zealand more quickly. It's a great way to meet locals and make friends.
Most partners of skilled migrants do not have a job when they arrive. You may be planning to focus on your family and getting set up or you may plan to study or start a new business or career path.
However it is likely that at some point you will also want to work.  Our job market may be quite different to what you are used to, so it is worth researching what jobs are available and how to apply for them.
Even if you are well-prepared, finding a job may take longer than you expect. It may depend on the job market, whether your qualifications are recognised here, how good your English is and how well you are tailoring your job applications for New Zealand employers. If you are on a temporary work visa, some employers might be reluctant to employ you because of your ability to stay in New Zealand long term.
Check out the things you can do to increase your chances of success.
Volunteering
Doing voluntary work is a very good way to meet people and build up work experience in New Zealand. Volunteering can also lead to references, which can be a real asset in your job search.
By volunteering, you can keep up your skills while you search for work. You may also learn new skills in an area you'd like to move into.
There are lots of opportunities for volunteer work in New Zealand. For instance, many community groups and not-for-profit organisations need qualified people for specific work which they'd otherwise have to spend their funding money on.
To find volunteering opportunities, you can check the community boards at your local hall, community centre, library or shopping centre. You can also check your local volunteer centre on the Volunteering New Zealand website.
Volunteer Centres | Volunteering New Zealand
Can I volunteer in New Zealand? | Immigration NZ
Getting settled
Getting established socially is central to making your move a success. It can be hard to feel settled if you do not know anyone and have nothing to do. Check out our tips for making contacts and connections with people in New Zealand.
It took me much longer to feel settled than my husband, who started work as soon as we arrived. I had to step outside my comfort zone and try new things to meet people and find a job.
There is a pattern to the highs, lows and stresses you will go through. It is called the 'Settlement curve'. It is something everyone in your family should be aware of.
The settling in process does take time and it is normal to feel unsettled for a while.
Learning English
Your communication skills will impact on how quickly and successfully you settle in.
If you want to work you will need to be able to understand, speak and write English well. The level of skill required varies across different industries and occupations.
Whatever your situation learning English makes settling in much easier. Taking English classes is a great way to meet other people going through the same experiences as you.
Immigration New Zealand's website has details on English language requirements for visas. Our Learning English page has information on how you can prepay for lessons if you do not meet these requirements.
English language requirements | Immigration NZ
Settling children into education
If you have children, getting them settled into education and learning how our education system works will be a learning experience for you as well as them.
Education in New Zealand is about giving children the knowledge, skills and values to be successful. Parent involvement is encouraged throughout the pre-school and school system.
Looking after your relationship
Moving to a new country may be stressful on your relationship.
Even if moving here is a joint decision, there can be tensions if one partner feels they are following the other to New Zealand at the expense of their own career or lifestyle. One of you may feel homesick, while the other may be enjoying the new experience.
Moving and the effect on your relationship
Accessing help and support
No matter how thoroughly you prepare, moving to a new country will most likely throw up unexpected challenges.
Support services are available in New Zealand that can help you with a range of issues. Check out our information so you know in advance what is available and how to access it.