New Zealand is one big natural playground. You will find all sorts of opportunities to get into the elements outdoors and be as physical as you want – from hooping it down a mountain bike track to lazing on an uncrowded beach or simply pruning the roses.
Putting in a good day's work then grabbing those opportunities out of office hours really is the Kiwi lifestyle.
Hit the water
Nowhere in New Zealand is more than 100km (60 miles) or so from the sea. And we have lots of rivers and lakes. So you get plenty of opportunities for things like swimming, boating, fishing, diving, kayaking, windsurfing, kite boarding and canoeing.
Our beaches are usually sandy, the water quality is great, and there is often seriously good surf to be found.
There is great sailing too, especially in Auckland - our 'City of Sails'.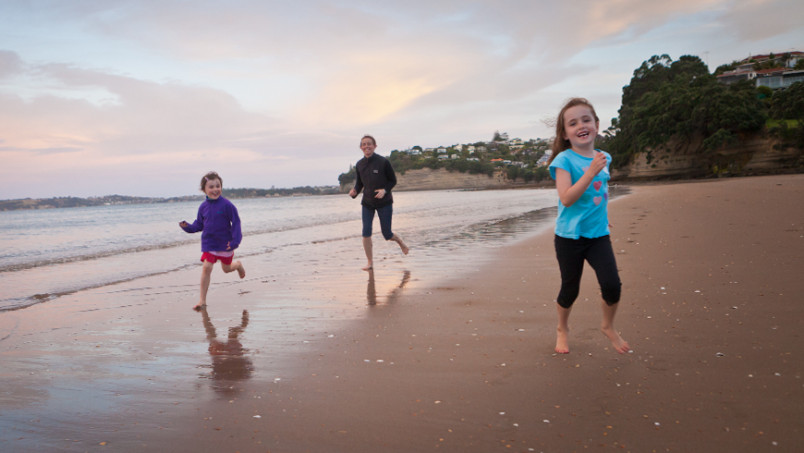 Nowhere in New Zealand is more than 100km or so from the sea.
Catch a fish or hunt for game
With 15,000 kilometres of coastline to explore, you will have your choice of fishing spots. However, to stop overfishing and to conserve New Zealand's natural heritage some areas are closed to fishing and there are limits on daily catches wherever you are.
Catch limits apply to shellfish, such as mussels, paua or pipi, as well as to fish. Check the regulations in your local area before you fish or gather shellfish. You can find out the limits in your area by visiting the Ministry of Primary Industries website.
Fishing rules | Ministry of Primary Industries
If you prefer to go freshwater fishing, you are in luck. New Zealand has some of the best trout fishing in the world. For most freshwater fishing you will need a licence from Fish and Game New Zealand. The licence fee helps to pay for maintaining fish numbers and looking after their habitat. Fish and Game New Zealand also issues hunting licences for game birds, such as ducks.
Licences | Fish and Game New Zealand
Safety first
Kiwis grow up understanding the need for safety in the outdoors. Check the safety information to make sure you know about it too.
Keeping safe outdoors
Get into the countryside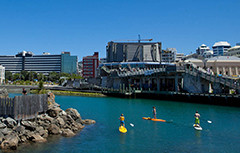 Explore New Zealand
For information about getting around, places to stay, suggested itineraries and things to see and do throughout New Zealand, visit 100% Pure New Zealand.
New Zealanders feel a real connection with the land and love to be near the countryside and the beautiful New Zealand bush. Nearly a third of our land area is in national parks or other protected areas ideal for tramping (trekking), hunting, camping and family holidays.
Check the regional information for outdoor opportunities in your area.
Experience lakes, waterfalls, volcanoes, mountains, fjords and enjoy some of the world's best walking tracks right here in your back yard.
If gardening is your thing, you will find yourself well served with good soils, a mainly temperate climate (though wind can be a problem in some places) and a nation that loves growing things.
New Zealand is famous for its mountains, especially the Southern Alps, and there is good winter skiing in both islands, not to mention climbing.
If mountain biking is your sport, New Zealand has some of the most exciting cycling trails in the world.
National Parks | 100% Pure New Zealand
Try something new
There are so many ways you can enjoy the outdoors in New Zealand. And with shorter commutes and around 2,000-odd sunshine hours a year it is easy to get out of the office or house and into the elements.
Jump in a campervan, grab a tent and explore your new home.
Run around with a rugby ball at the park, fly a kite or challenge the neighbours to a game of backyard cricket.
Get healthy - head out for a run at lunchtime, mountain bike after work or join a social netball or rugby club. Get your adrenaline pumping with a weekend adventure, like white water rafting in Taupo or skydiving in Queenstown.
Enjoying the outdoors is not just a rural privilege here. Even our biggest cities have huge natural reserves set aside for walking, picnicking or mountain biking.