You will understand New Zealand and New Zealanders better if you understand the influence of Māori culture and language on New Zealand society.
Māori culture is an important part of daily life in New Zealand. It influences our food, our language, our attitudes, what children learn at school and how the country is governed.
About the Māori people
Māori are the original people of New Zealand. Their ancestors were the first people to settle in New Zealand, arriving sometime between 1200 and 1300 AD.
In the 2018 New Zealand census, nearly 800,000 people living here were of Māori descent. That is about 16.5% of the population.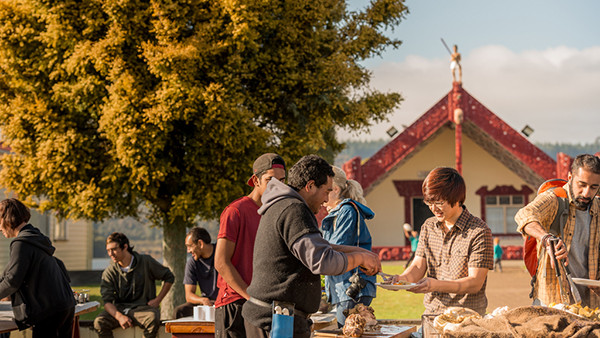 The Treaty of Waitangi
The Treaty of Waitangi (Te Tiriti o Waitangi) is our founding constitutional document. It was signed in 1840 by Māori chiefs (rangatira) and representatives of the British crown when New Zealand first became a colony.
New Zealand's unique mix of Māori and European ideas and customs began with the signing of Te Tiriti and it continues to be hugely important in defining the relationship between Māori and people of European descent.
Māori | Te Ara Encyclopedia of New Zealand
Māori customs - Tikanga
Tikanga (customs and protocol) is a vital part of Māori culture. Understanding Māori tikanga will help you understand the Māori way. It is also essential to know if you visit a marae (Māori meeting grounds).
Two important aspects of tikanga are manaakitanga and kaitiakitanga.
Manaakitanga
Manaakitanga is all about hospitality and kindness. It sums up the acts of welcoming and looking after guests by offering hospitality, generosity and mutual respect.
The concept is important to many New Zealanders. It is even recognised by our government as one of the two core values of our tourism strategy.
Kaitiakitanga
Kaitiakitanga is the strong sense of respect and guardianship Māori have for the natural environment. Related concepts are mana, tapu and mauri. You can read about these on the Te Ara website.
Kaitiakitanga is another Māori philosophy that is central to the way many New Zealanders think about their responsibility for the natural world.
Kaitiakitanga - guardianship and conservation | Te Ara Encyclopedia
Te Reo Māori  (the Māori  language)
You will often hear people refer to this country in both Māori and English as 'Aotearoa New Zealand'.

The Māori word for people of European descent is 'pakeha'.

One of the most common Māori phrases you will hear is the 'kia ora'.
A very important part of Māori culture is the Māori language — Te Reo Māori.
Te Reo is an official language in New Zealand, along with English and New Zealand Sign Language. A lot of government websites are presented in both Māori and English. New Zealand's national anthem is usually sung in both Māori and English.
Māori language (Te Reo) has been growing in use in recent years. You will hear Māori words — particularly greetings — used by both Māori and non-Māori.
National anthem video | Ministry of Culture and Heritage
A working partnership for Māori language revitalisation | Māori Language Commission - Te Taura Whiri i te Reo Māori
Place names
Some English place names have been officially replaced by the Māori name. Sometimes you will hear two different names used for places in New Zealand — the Māori name and the English name.
Place names of New Zealand - Ingoa Wāhi o Aotearoa | Māori Language.net
1000 Māori place names | NZ History
Learn Te Reo Māori
More and more people in New Zealand are learning and speaking Te Reo Māori. You may hear different pronunciations of Māori words — although Kiwis are gradually becoming more aware of using correct Māori pronunciation, some people still have a distinctly 'Pakeha' way of saying certain Māori words.
The best way to learn some Te Reo and how to pronounce it is to listen to it. Radio New Zealand (RNZ) has a selection of audio and video greetings and other phrases in Māori that you can listen to.
To learn what Māori words mean, try the online Māori-English/English-Māori dictionary.
Te reo Māori used on Radio NZ | Radio New Zealand
100 Māori words every New Zealander should know | NZ History
Māori culture in day-to-day life
How you experience Māori culture in your daily life may depend on where you live and what work you do.
More Māori live in the North Island than in the South Island. If you live in the North Island — particularly in areas like Auckland, the Waikato, the Bay of Plenty, Northland and Gisborne - you will probably have more opportunity to see and experience Māori culture every day.
If you work for the Government (ie in the public sector) you are likely to be involved in formal ceremonies that include Māori customs (tikanga). You may also be expected to have an understanding of Māori culture.
Learn more about Maori culture
Visiting a marae
The marae (a Māori meeting ground) is the focal point of local Māori communities throughout New Zealand. A great way to learn about Māori culture is to experience it for yourself, for example by visiting a marae. It is a good idea to visit with a group.
To get an idea of the customs involved in visiting a marae, view the NZ On Screen video below. It was filmed in 1984 but the ceremonies involved have long-standing traditions and the information still applies.
The Māori Maps website can help you find marae in your area.
Beginner's guide to visiting the Marae | NZ On Screen
Marae protocol | Te Ara Encyclopedia
Search for marae and maps | Māori maps
Visit a museum
Another way to start learning more about Māori culture is to visit your local museum. You can find a good list of museums, art galleries, cultural organisations and their collections online.
Read about Māori culture
Te Ara (The Encyclopedia of New Zealand) has some excellent information about the history of Māori arrival and settlement and gives an overview of Māori culture to the present day. It also discusses 'biculturalism' and how the relationship between Māori and Pakeha has changed over time.
Biculturalism | Te Ara Encyclopedia of New Zealand
Watch Māori television
You can learn more about Māori and Te Reo Māori by watching a dual language tv channel, like Māori Television.