Almost half of New Zealand lives and works in or near greater Auckland, so there are jobs in most industries.
Looking for more general employment information?
Auckland contributed 38 per cent to national GDP (year ended March 2019), provides 36 per cent of national employment and is home to an estimated 35 per cent of the national population. [Source: Statistics New Zealand data, 2018].
With two large harbours and warmer weather, working in Auckland has the added bonus of being able to enjoy the city's outdoor activities and café culture.
Job vacancies in Auckland
Trade Me Jobs  - lists a large number of jobs in Auckland.
Seek - New Zealand's largest general job website.
New Kiwis - an online programme connecting skilled job seekers (local and global) with New Zealand employers.
Workhere - specifically designed to connect offshore skilled workers and Kiwi expats with New Zealand employers.
Work and Income - jobs available in Auckland for Job Seekers.
careers.govt.nz - lists recruitment companies in New Zealand.
Newspapers
Most local newspapers publish jobs available in the area in the Situations Vacant column.
Job search help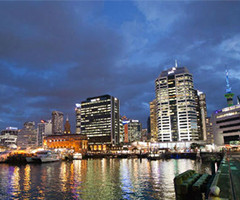 Working in Auckland
Auckland is looking for top talent. Sign up for more information about job opportunities in Auckland, NZ here
Belong Aotearoa (formerly called ARMS) - supports migrants with workshops, mentoring and one-on-one guidance.
Tips for recent migrants | careers.govt.nz - a free service to assist with your job search and prepare you for employment in the local labour market. 
Citizens Advice Bureau Central Auckland , Citizens Advice Bureau Eden Albert, Citizens Advice Bureau Pakuranga, Citizens Advice Bureau New Lynn, Citizens Advice Bureau Onehunga - provide information and support for job seekers, and offers workshops to offer further advice on working in NZ.
Work and Income New Zealand (WINZ) - a government department helping to find employment for residents or those with a valid work permit. 
Work Talk | English Language Partners - an intensive, four-week course for confident users of English. Here, you will learn how to prepare your CV, approach employers, and practice for job interviews.
Volunteer support organisations
Migrant Action Trust (MAT) - provide a voluntary work experience programme.
Auckland Regional Migrant Services (ARMS) - place migrants in volunteer positions to apply and enhance their skills in a Kiwi work environment.
Pacific Business Trust - Assists Pacific Island business owners to take advantage of opportunities available. Helps with financial advice, networks, etc.
Business networking organisations 
Auckland Tourism Events and Economic Development (ATEED) - organises a broad range of networking and business development opportunities in the Auckland area.
Auckland Business Chamber - supports local businesses by offering advice, consultancy, training and networking opportunities.
Business Over Breakfast - offers business owners an opportunity to network and share information on how to grow their businesses.
Auckland Executive Club - a group for women in senior management, the professions, business owners and people with specialist skills.
Women Entrepreneurship Centre  - a business network for women
Venus Network- a business network for women
Volunteering
Volunteering is a great way to gain work experience, meet new people, learn about your community, and improve your English skills.
Volunteering Auckland matches volunteers looking for volunteering roles with organisations looking for specific skills, and offers free to low-cost training for volunteers.