When Dora Avanidou and Theo Sarris moved from Greece to New Zealand with their daughter, beautiful urban beaches and excellent schooling made the transition much easier.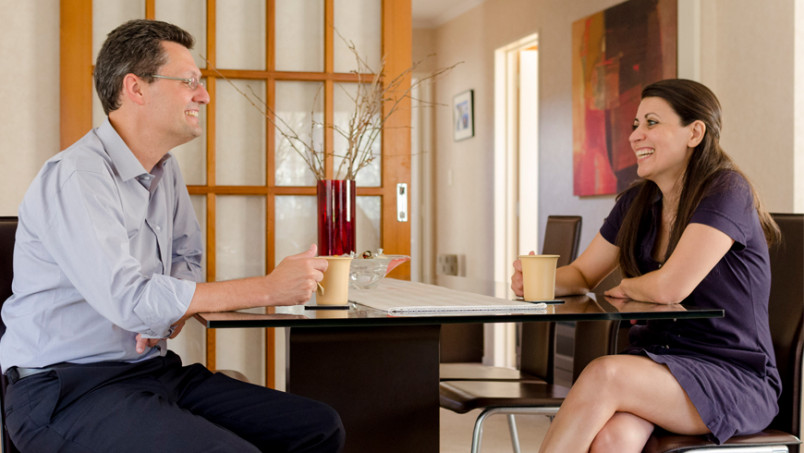 If you're going to move away from a country such as Greece, with its beaches, mountains and hot summers, coming to New Zealand is an excellent way to maintain an outdoor lifestyle.
Dora Avanidou and Theo Sarris discovered this when they arrived here with their daughter in December 2012. It was the beginning of summer, a perfect time to explore Auckland's urban beaches and make new friends.
"In Auckland, you always have this very good connectivity with the beaches; you can be 10 minutes' drive from some of the best beaches in the country. We used to have that in Greece as well," says Theo.
The couple looked at every large English-speaking country during their search for a new home. They'd studied and worked in the United States for six years, says Dora – but having access to good healthcare and education was more important now.
"We are not just a couple now, we have our daughter that we have to take care of. For us it's more important that she has a good life and good choices, so New Zealand was up in the list," she says.
Dora and Theo are engineers, specialising in groundwater (water beneath the earth's surface). They contacted an employment agency in New Zealand, and the agent sent their CVs on to several companies. Beca interviewed them over Skype and the couple were offered jobs: Theo as a senior groundwater engineer, and Dora as a senior hydrologist. Now they work on major projects around New Zealand, and Theo has worked in Australia and the Pacific too.
Theo says Beca offered just the right level of support. "They gave us the flexibility to investigate our options to see what visa would suit us better," he explains. Beca also contributed towards the relocation costs, and the couple had a removal company pack their possessions.
They'd also made contact with the Greek community here before arriving. People passed on advice, and loaned them various items until their own belongings arrived.
"We were lucky, we met people that we are now very good friends with," Dora says. "I'm confident that if I need help with something, they will be here and help us like a family."
Other research ensured they had a good idea of what to expect from New Zealand as a country. Dora expected a clean city with plenty of places to visit and activities to enjoy – and she got exactly that. "I think Kiwis are very friendly, and I like the fact that all neighbourhoods have playgrounds," she says.
Talk to people, look for resources – there are many forums on the internet where people discuss these things. Do your homework and take the leap!
Iliana joined primary school at year two, and could understand English, "but she wasn't confident enough to speak out," says Dora. "I'm very grateful to the school because I think they did help a lot, and her teacher paid attention when I talked to her about my concerns."
Theo adds that having both parents starting new jobs at similar times can be more stressful for children. "She had a difficult time adjusting at first, she had to stay long hours at after-school care, but at least Beca allowed us some flexibility with our job schedule so we could make this transition a bit better," he says.
It took a while to get used to the high cost of housing in Auckland, says Theo, and the older houses are very damp and mouldy.
Traffic is "a bit of a nightmare", he adds. "Certain journeys can take you, depending on traffic, from 7-10 minutes to a couple of hours. It's a random game, but it's part of living in an area that's so spread out but also naturally beautiful."
The high cost of fresh fruit and vegetables seemed odd to Dora, and Theo is still surprised at "how New Zealand, which produces probably the best milk in the world, is so terrible with their cheeses, in quality and diversity," he says. "But you adapt and you realise that since that's where I decide that I want to be living, I have to adjust."
The easy access to outdoor activities – hiking, surfing, swimming and more – far outweighs these irritations, though. "I think that New Zealand is one of the best places for an outdoors person," says Theo. "There are so many things that people can do. I'm still in the process of exploring the country."
It looks like this family may be here for a while. In five years' time, Dora's dreams are simple. "I hope that we will be healthy and we will enjoy our lives here. That's all that matters, actually," she says.
For others considering a similar move, Theo's key tip is to do your homework; it pays to find out the good and bad about any place, as no country is perfect.